We are thrilled to announce Velo's shortlisting for the Global Agency Awards 2023, following recognition of our work throughout this year.
Who are we?
We're a specialist, award-winning B2B marketing agency, working with international clients targeting niche audiences. With a 30-strong team of design whizzes, campaign crafters, storytellers, marketeers and creative experts, we shape B2B marketing for the world's leading businesses across the professional services, technology and industrial sectors.
Velo's story is best described through its journey. In 2011, Managing Director Paul Crabtree realised he wanted to build an agency from the ground up that championed people, quality and meaningful customer experiences. Velo was born, following a namesake that honoured Paul's realisation that at his old job, all he wanted to do was ride his bike. Shortly after, current Executive Creative Director Matt Scutt traded the freedom of freelancing for the buzz of agency life, and consequently built the foundations for a now 30-strong team.
Velo's mantra focalises on crafting marketing that our clients will be proud of. This isn't just a slogan- it's a way of life for us, and a concept that has seen our work adopted by some of the world's leading enterprises, including Cisco, Sage and JLL. The quality of Velo's work has also propelled another characteristic: we're almost entirely built on recommendation. Word-of-mouth, alongside a methodology of iterating to excellence has seen Velo win clients such as the Financial Times, McGraw Hill Education, and Savills. We deliver quality work, underpinned by communication and transparency, leading to feedback such as the below quote:
"We really like your forward thinking and the execution approach that you bring above all other agencies. Your clear communication and professionalism, on top of the proposal, is why we decided to go with you. We are really looking forward to it and making this relationship really fun and successful for all." – TLC Lions
We know we're not the biggest agency, but we strive to be the best, by recruiting in-house talent who truly understand the why-factor behind successful marketing. We pride ourselves on consistency, applying a formula of three core components to everything we do: customer experience, integrated
marketing, and brand communications. Combining these elements allows us to ensure our clients connect with their audiences to drive loyalty, and that their customers are nurtured towards a sales goal.
Furthermore, we're equally as proud of our talent retention as we are if and when they choose to leave. Many ex-'Velonauts' have gone on to work for big corporations such as LinkedIn and Apple- and they all have great things to say about us! In fact, on GlassDoor we're rated as the number one B2B agency to work at. Read some of our employee feedback here.
Great work often leads to recognition (or so it should do!) – so it should come as no surprise that Velo's work has gained a lot of acknowledgements. Highlights for us include winning The Drum Recommends award in 2020, The European Agency Awards in 2020, and securing finalist slots in the UK Content Awards and the Global Marketing Awards. Equally, we've seen our people-championing culture celebrated by a finalist position in the UK Company Culture Awards last year and were named one of Campaign's 10 Best Places to Work in 2023.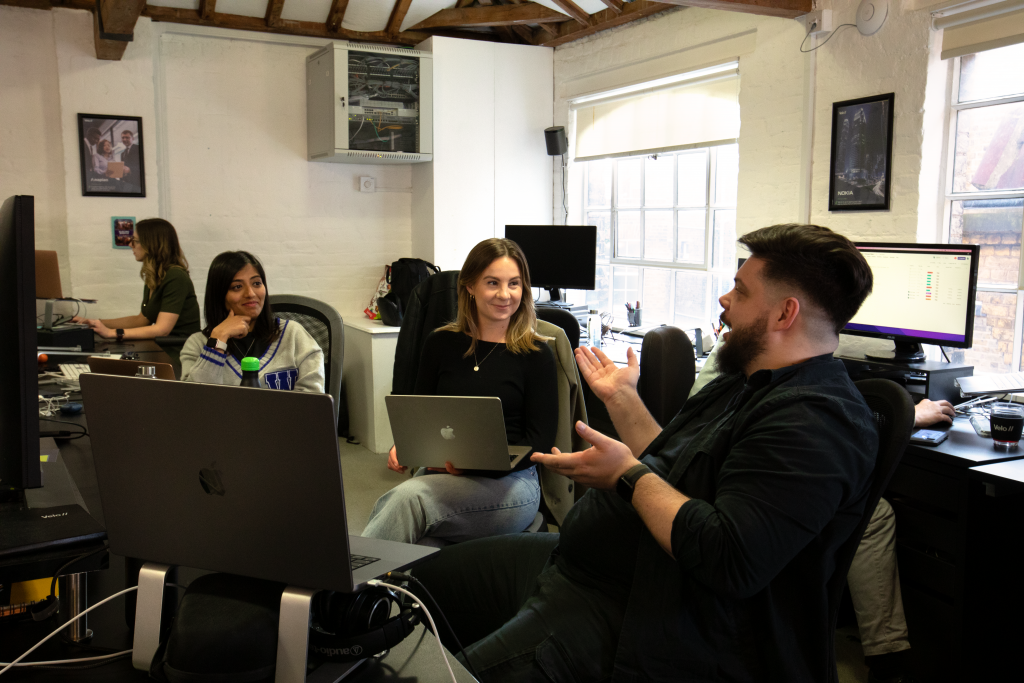 This year, we are thrilled to have had our hard work recognised through becoming a finalist for the Global Agency Awards 2023 in the category for B2B Agency of the Year. This award will recognise our recent successful projects, listed as follows:
Miles for Smiles
Did you know the average office worker spends five years of their life sitting at their desk, and the average step count sits between 3,000 to 4,000 per day? Movement is vital- not only for general happiness, but also for maintaining a work-life balance. This was recognised by the leadership team at Velo, and correspondingly caused us to launch our Miles for Smiles initiative in 2021. Through this, Velonauts are encouraged to walk, run or cycle as much as possible over the course of a month to raise money for charities close to their hearts. In 2022, we raised over £1,900; and as we continue the initiative this year, we anticipate taking that figure even higher! Find out more and see how much fun we had here.
Tokio Marine HCC Client Work
Recently, we assisted Tokio Marine HCC in refreshing their visual identity and with the creation of new, refreshed templates. This was shaped by thorough competitor analysis within the market and stakeholder interviews, and included the development of a new strapline in tandem with creative, conceptual marketing. We're proud to have received great feedback on what we produced:
"You hit the brief pretty much off the bat. I'm really pleased with it. Fits our industry and fits how we want to position ourselves as a global player." – Phelim Browne, TMHCC
Troup Bywaters + Anders Client Work
We've been working with TB+A since 2016 and remain proud to continually be their agency of choice., covering everything from brand storytelling and positioning to a thought leadership strategy and long-form content. This year, we even had the pleasure of collaborating with them on the launch of their first ESG report. Again, it is warming to have received such lovely feedback on our work with them:
"Velo has been instrumental in supporting our business and brand strategy. They are a clear thinking, flexible, B2B agency who care about delivering results." – Leigh Williams, TB+A
Navtech Radar Client Work
We supported Navtech Radar on their product launch at the world's largest mining exhibition, Bauma. This involved an ABM-led one-to-few campaign as well as creative support across assets such as brochures and the stand design to ensure a fantastic in-person experience. This resulted in some great feedback:
"They feel like an extension of my team. That enthusiasm has come to life in the high quality of work they have produced." – Sian Hawley, Navtech Radar
We're thrilled to have been shortlisted as a finalist for the Global Agency Awards 2023 and can't wait for what's to come. As an agency predominantly built on recommendation, receiving great reviews and getting shortlisted for awards like this means everything to us! We're passionate about delivering exceptional service and creating long-lasting relationships with our clients, and our team works so hard to achieve these goals. So, it is incredibly rewarding and exciting to gain recognition for what we do and is a testament to our team's dedication and hard work.
You can find out more about who we are and what we do here: https://velo-b2b.com
Or see what we're up to via LinkedIn.