36 prizes to win, 5 nominations, 12 people who made it happen, and 1 common goal: winning a Global award (well, at least one ;-)). Something that's more than just an award, if you ask us. For us, it's a testament to the growth we've experienced in recent years. From joining national competitions to participating in international battles. From the Dutch and European Search Awards to the Global Agency Awards. And we got nominated! Not with 1, not with 2 but with 5 cases. You can imagine that we're walking around with a huge big smile. Happy faces all over the place. Let us tell you more about those happy faces and the cases we got nominated for.
Happy people
We are Happy Horizon. Peers call us a digital marketing agency. Our mothers would say we do 'something involving the Internet'. Or work 'in advertising'. And one client actually made us blush with the description 'a smart club of people who bring results'. Whatever you call us, there are about 500 digital talents part of our club. From strategists to online marketing specialists and from developers to copywriters. As a result oriented 'think and do tank', we assist more than a 1.000 organizations with measurable results. Together. Because in a complex world where more and more disciplines involve each other, we believe collaboration is the key.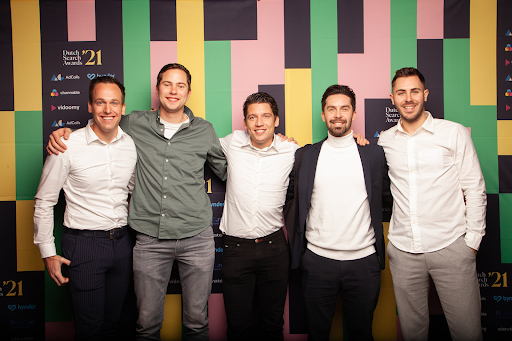 Success formula
We strongly believe in the combination of data, technology and creativity. We like to call it our success formula. At least, that's how we see it. On top of being the first mover in advertising strategies and tactics, we perform a wide range of technical integrations for our clients. Mostly, to unlock valuable data and insights within our clients organizations. In order to deploy data insights and smart first party audiences into marketing campaigns (whether it's online, offline or both). On the cutting edge between data, technology and creativity is where we innovate and create unique marketing practices. Innovation is our drive, but above all, we aim for hard results. Results that make us and our clients smile!

Nominated cases
That's why we can say that the cases we got nominated for, have one thing in common: our success formula. Within all the 5 cases – A-Z Barbecue, Luxaflex, Warner Music Benelux, Golden Naturals and Shimano – we've implemented our formula. In Dutch we would say that these cases are 'the best horses in our stable'. That's why we're proud not only to showcase them in national competitions, but also present them to the world.
For the win
We're in the run for Best Social Media Campaign, Best Marketing Campaign, Best Integrated Campaign, Campaign Effectiveness Award and Best Global Campaign. What would it mean to take one home with us? We can be very brief about that. It would mean the world (uh… globe) to us. For us it's the icing on the cake. It shows how far we've come. And most of all: it will give us the motivation to keep on rocking that top position.
We've got our fingers crossed and are patiently waiting for the big day in June. Until then we keep on smiling, and of course keep up the good work so we will be (hopefully) nominated again next year. See you at the finals, online.
Want to get to know us better? Check our website or follow us on LinkedIn, Facebook and Instagram.