Who is All human?
All human is a progressive digital growth agency with a dedicated conversion and experimentation practice. Based in Ireland, with a focus across the United Kingdom and the European Union, we work with major household brands, driving business growth by creating experiences that people love. In the past few years, we have worked with large organisations such as Fáilte Ireland, Lily O'Briens, AXA, Irish Rail, Bord Bia, Irish Life, and An Post. Our unique concentration on user behaviour and commitment to the customer experience underpins every project. With a team of dedicated researchers, designers, developers, and conversion rate optimisation (CRO) professionals, we offer a full end-to-end solution that provides brands with the strategy and roadmap required to compete and win online.
One of All human's key objectives is to drive digital performance. To deliver on this goal, we established a Digital Performance team dedicated to providing a uniquely science-based offering. This dedicated cross-functional team consists of researchers, UX CRO experts, data analysts, and developers who align user needs with business objectives producing measurable impact with CRO strategies.
We are thrilled and honoured to have been nominated for the prestigious title of CRO Agency of the Year at the Global Agency Awards. This nomination serves as a testament to our unwavering commitment and expertise in the field of conversion rate optimisation (CRO). Over the past five years, we have dedicated ourselves to developing a methodical CRO process that has continuously evolved and improved, resulting in exceptional outcomes for our clients.
What an effective CRO process delivers
Our CRO process is the culmination of years of meticulous research, data analysis, and experimentation. We leave no stone unturned as we delve deep into understanding consumer behaviour, optimising user experiences, and implementing strategic changes to boost conversion rates. By leveraging cutting-edge technologies and industry best practices, we have consistently delivered remarkable results driving real business growth that exceed our client's expectations.
Through our comprehensive CRO program, we have played a pivotal role in attaining these remarkable results for Irish Life Health, a provider of private health insurance in Ireland:
+73% in conversion rate
+86% in online quotes
+46% in purchases
+60% in revenue online
For another client Lily O'Brien's, a much-loved chocolate brand, through our programme of CRO we have helped achieve these outstanding results:
+65% in conversion rate
+117% in transactions
+54% in revenue
-42% checkout abandonment
For Fáilte Ireland, the National Tourism Development Authority of Ireland, our CRO programme for Discover Ireland has delivered significant success in the past two years:
+123% in conversion rate
+196% in referrals (primary goal of the site)
+44% in returning visitors
+31% increase in visits to the site
Through our concerted efforts, Visit Dublin, Fáilte Ireland's latest addition to its digital ecosystem, has achieved remarkable success since its launch last year:
+208% in conversion rate
+185% in referrals (primary goal of the site)
+55% in returning visitors
+23% page views per sessions
+84% in session duration
The impact of our work in the realm of CRO speaks for itself. Our clients have witnessed significant improvements in their conversion rates, resulting in enhanced customer engagement, increased revenue, and improved overall business performance. The recognition and acknowledgement of our efforts through this nomination as CRO Agency of the Year is a tremendous honour, affirming our dedication to excellence and our ability to drive tangible, measurable results for our valued clients.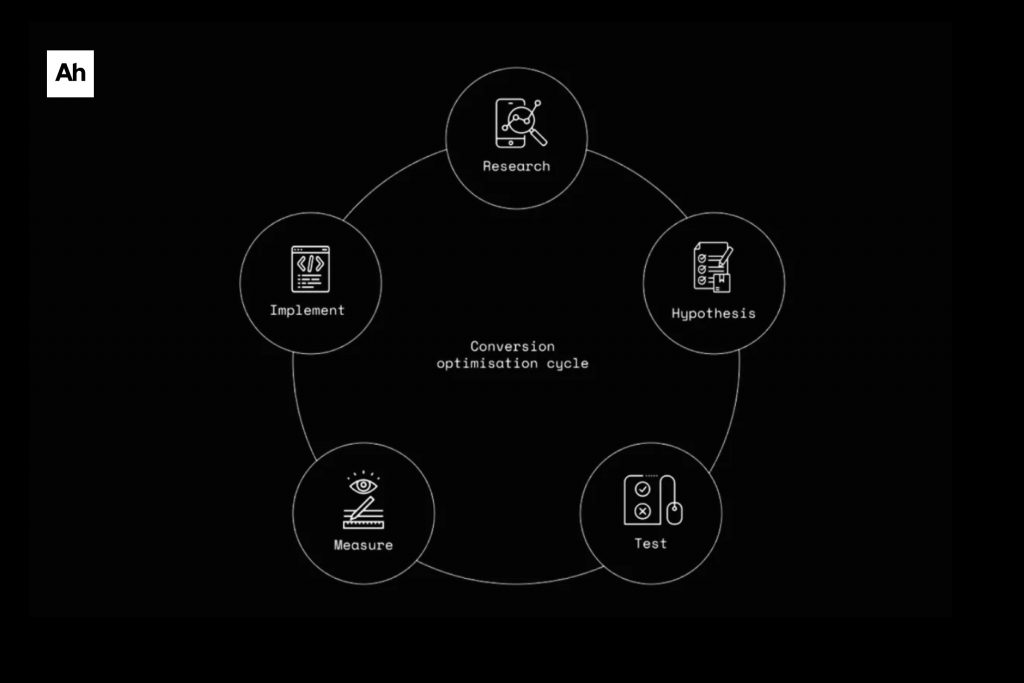 Staying current with industry trends
To ensure that we can deliver the best results for our clients, we invest time and money into staying informed about CRO and the latest industry trends. The team is committed to excellence, whether that involves additional training or attending conferences.
Last year several team members attended the Experimentation Elite conference in London. It is the UK's only conference dedicated to CRO & Experimentation and brings together marketing professionals and CRO experts to share and advance their knowledge and success. It was a day packed with practical sessions and highly informative presentations from leaders in the CRO field.
We are also proud to be nominated this year at Experimentation Elite for three awards for Best use of experimentation in Travel & Hospitality, Best use of experimentation in Finance & Insurance, and Agency of the Year.
CRO is continuous
The CRO cycle never ends. New experiments are constantly generated based on ongoing research and observation, creating a dynamic backlog of ideas. Digital products, market trends, propositions, technology, and consumer behaviour are all non-static, so brands must constantly be innovating and tweaking their digital experiences to stay ahead.
As we strive to stay at the forefront of industry trends and advancements, we remain committed to providing innovative solutions that improve the UX, driving conversion growth and propelling businesses toward unparalleled success.
Do you want to learn more?
Find out about how the All human Digital Performance team is constantly experimenting, testing, and tweaking the experience to ensure we convert visitors to customers.
"We are truly grateful for this recognition, and it inspires us to continue pushing boundaries, refining our CRO process, and delivering exceptional outcomes for our clients. We are immensely proud of our achievements as a team and believe that this nomination reinforces the value of All Human's CRO expertise."
Sarah Lachapelle, Principal UX CRO Specialist, All human