We're Blush – a full service design and digital agency based in and around Manchester.
We're made up of a small but dynamic team of designers, makers, animators and illustrators. Our purpose is to shape perceptions, engage audiences and drive change with unique and compelling creative.
We're proud to work with a highly-respected roster of amazing organisations including sustainable, charitable, healthcare, educational and not-for-profit sectors.
When Eurogroup for Animals approached us with this project brief we were really excited to be a part of something that could finally bring about a genuine change for good.
This campaign called on the EU to ban fur farms and farmed fur products from the European market. This is a historic campaign which could actually change EU law and set new legislation across Europe.
The initiative had to gain 1 million validated signatures. At this point, the European Commission is obliged to respond and take action. The campaign surpassed our expectations and reached its goal in record time and amassed unprecedented amounts in both signatures and donations.
The brief was to develop a year-long multi-media campaign. Fur farming has been protested against for years but 100m animals are still bred and killed annually. We needed to create a campaign which would grab attention and finally stop this cruelty!
To achieve this we required a distinctive, flexible campaign brand style that people could get behind – not just the general public, but supporting member organisations of Eurogroup for Animals and online influencers.
We aimed to produce designs that conveyed an 'activist' attitude, which we accomplished by employing a large, hand-painted font and intricately-cut species-specific animal photography. This was made even more distinctive with a limited red, black and white colour palette. Our objective was to establish an instantly recognisable 'campaign' look and feel.
A huge range of bespoke content was needed to promote engagement. Assets included monthly themed videos, social media posts, reports as well as printed collateral.
We were required to develop a flexible design style as the campaign would run for one year, so needed to ensure that the project wouldn't suffer from 'campaign fatigue'. To maintain momentum, each month we created new collateral including topical assets to run alongside timely events such as Fashion Week, World Animal Day, the start of breeding and slaughter season.
As a very small agency of only seven designers, we wholeheartedly embraced this project as a labour of love. Recognising the profound significance of the work at hand, we committed extra time, energy and creativity into the project.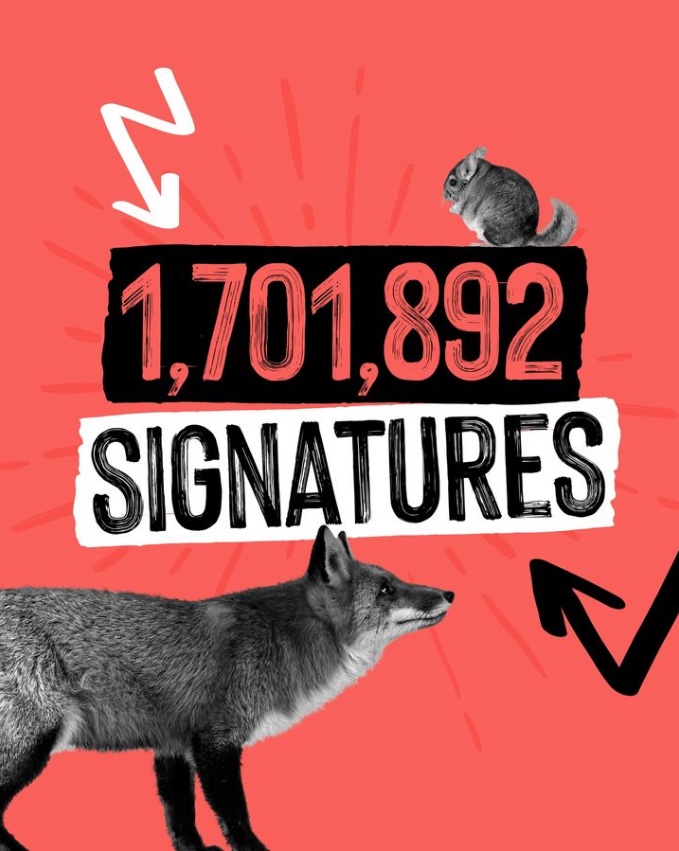 We are proud to have been a part of a campaign which galvanised a critical mass of people to take constructive action to help push for a transformative change in EU law thereby bringing an end to fur farming.
We are thrilled to have been nominated for this award at the Global Agency Awards. This recognition serves as a confirmation of the efforts our team has put in and underscores the meaningful impact of the work we have undertaken.
"Blush was a key partner for this campaign. They "jumped into the project" and came back in no time with amazing ideas. They accompanied us for a long marathon, more than 10 months of constantly new and fresh content which was vital for the campaign's success. They're not only a reliable partner, never missing a deadline, but they bring the best creative approach to all the tasks. Being it digital, print or video, it's always top quality design, reflective of the latest trends." – Agnese Marcon, Communications Manager, Eurogroup for Animals
Website | Fur Free Europe | Instagram | Facebook | LinkedIn | Twitter