Who are Flatline?
Flatline Agency specializes in assisting businesses in making the shift from offline to online using cutting-edge technologies. We are a global disruptor in custom development & end-to-end production partner. The agency strives to begin where every other agency stops, delivering high-quality work, fast – while leveraging the newest and best techniques available. Of course, all our products are built to scale out of the box – future proof as to the standard. The services we provide have become increasingly important for firms to prosper in today's market. To recognize our accomplishments and hard work we're thrilled to be nominated for the Global Agency Awards, in the category of Digital Agency of the year AND Best small agency of the year.
Our team consistently work to guarantee that our clients receive the highest possible level of service and solutions. By constantly updating our abilities and technologies, we provide the best possible experiences for every client. Additionally, we use an omnichannel approach to further elevate the brands, which allows the firms we deal with to achieve increased availability, and generate sales, and traffic.
Why we entered
We applied for these awards as even being nominated for the award demonstrates our commitment and passion for assisting our clients in obtaining the mind-blowing results. As a company, we have achieved so much in a very short space of time, exceeding our expectations tremendously by working with amazing, top-tier brands like; Budweiser, MG Motors, Just Eat Takeaway, Vanilia, Shell, Mystic and many more. We're extremely pleased with the work we've done since our beginning, as well as our future ambitions to expand our assistance to the tech industry. We're proud of the fact that in just a few years, we've accomplished more than other companies do in a decade.
What a win means for Flatline Agency
Winning these awards would recognize all of our accomplishments so far. It would also be a celebration of the impact we have made on our clients, as well as an added motivation to keep making a difference in every sector we work. Whatever the results of the awards are, we'll keep working to inspire other firms and reshape people's perceptions of what's possible and provide services to allow companies to reach their full potential.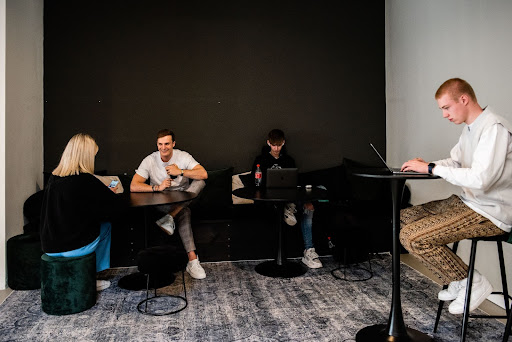 Notable Work
The most notable work we have completed is with Budweiser. We created a unique bottle configurator, which allowed Budweiser lovers all around the world to customise a personalized Dreambottle (which can be bought in the Supermarkets). Through an analysis of the brand's vision, we assisted them in creating a customer bottle configurator that incorporated their customer's image, dream, and name. Our team excelled in creating a unique and innovative experience for Budweiser customers, we made a state-of-the-art platform that helped customers feel more connected to the brand. By thinking outside the box we were able to make Budeweiser's vision to expand possible.
Additionally, a project that stood out for us, alongside Budweiser, was our work with North Actionsports Group. This project was very personal to our brand identity as even though they are an outdoor-wear clothing company, we could relate to their goals of being brave, pushing boundaries and growing exponentially. The company strives in challenging its customers to be braver and better. Mystic wanted to take its brand to the next level by automating fulfilment flows and connecting/supporting with building its eCommerce platform that reflected its strong and daring personality. Flatline Agency was the only option for completing this project as they needed an agency that understands the vision and goals of the brand and simply loves the sports.
Last but not least, we worked with the historic and innovative automobile company MG Motors. For this assignment we created a web app within 8 weeks for MG Motor repairers throughout Europe, this platform was designed to centralise confidential documents and aid communication between repairers and dealers within the organisation.
Choosing the right agency
Are you ready to grow your company? No need to look any further; our team is here to assist you. Send us a message and we'll get back to you as soon as possible.